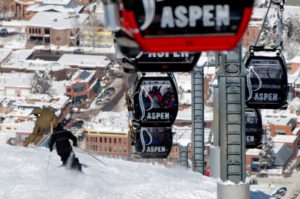 By Eileen Ogintz
Tribune Media Services
Sometimes father does know best — on vacation anyway.
Just ask my 30-year-old nephew Chris Yemma. Ever since he was a kid growing up in sunny Southern California, his dad, Mark Yemma, my husband's brother, waxed eloquent about Aspen and its four mountains, and the ski trips the brothers and their friends made to the iconic Colorado town in college and afterward. They drove 18 hours from Texas, staying in the cheapest place they could find, eating greasy burgers and paying just $25 for lift tickets — all for the joy of racing down Aspen Mountain, Aspen Highlands, Buttermilk and Snowmass as fast as they could. "We'd ski until the lifts closed every day," my brother-in-law recalled. "It was a great time."
No matter that my brother-in-law, Mark, hadn't been back to the mountain in 35 years. "Ajax (as Aspen Mountain is known) was the steepest and most feared ski mountain in the country; the Aspen snow was fluffier than the fur coats women wore around town; the nightlife was hipper than the hippest parts of Los Angeles, where I live," Chris joked.
Chris learned to ski on California slopes and graduated to a snowboard by the time he was 13, joining his dad on ski trips in California and us elsewhere. "But without fail, on every family ski trip we took," he said, "The conversation always reverted back to my dad's glory days in Aspen."
Was Aspen all that his dad claimed? I figured it was time to find out. I invited my brother-in-law, his wife Anne and Chris to join my husband Andy, me and my son Matt on a trip down memory lane in Snowmass and Aspen.
I love Snowmass, located 10 miles from Aspen, for its standout children's center (the Treehouse at Snowmass Mountain, family central), slope-side lodging, terrain (at 3,132 acres it is the largest of Aspen's four mountains), top-of-the-mountain barbecue restaurant, Sam's Smokehouse, and the chance to learn about Ice Age Mastodons and the astounding discovery of mammoth bones found here in 2010 at the Ice Age Discovery Center.
I love Aspen for its history (this was a bona fide mining town after all), its quaint downtown, restaurants, nightlife and the fact that, although this is a celebrity playground, you and your family can enjoy yourselves amidst the glitz and glamour without a Hollywood star's budget.
The Gant, where we stayed in a cozy Aspen condo, touts 20 percent or more off all stays through April 2012. The historic Hotel Jerome — we loved the sliders in the library — promises a second night free or 40 percent off a single night stay and even the deluxe Little Nell has some third night free deals.
For more slope-side deals at Snowmass, check out http://www.snowmassvillage.com/special.html.
(We loved the ski in, ski out Top of the Village. Book a package by March 16 for the last two weeks of the ski season in April and you not only get a deal on lodging, but kids ski free. If you rent equipment, they get gear free and even a free lesson — a savings of hundreds of dollars.)
Certainly, we had far better digs than my husband and brother-in-law had back in the day. Certainly, our equipment was a lot better — and there was no waiting in long lines in ski shops either. My husband and I brought our boots but left our skis at home, opting to demo this season's equipment from Black Tie Ski Rentals; check deals that offer 20 percent off and include kids free. Our skis were delivered right to the condo where we left them for Black Tie to pick up after our last day of skiing! All that for not much more than demo rentals on the mountains.
There's plenty to do off the slopes too. One day, while the boys skied, we snow-shoed to Pine Creek Cook House in the White River National Forest for a gourmet lunch in the backcountry.
We had plenty of good eats in our condo, too. I was thrilled that my sister-in-law, who doesn't ski, was glad to whip up some delicious dinners so we could cozy up by the fire and reminisce.
Still, it's always tricky to bring the kids back to a place where you have such fond memories. I smiled thinking about that as we dug into plate-sized blueberry pancakes, biscuits and sausages at the sundeck on top of Aspen Mountain early on a sunny morning, fresh powder on the slopes. We'd signed on for the Wednesday First Tracks breakfast, which meant we'd be racing down the mountain just as the first skiers and riders were coming up on the gondola.
"It would be tough to picture a more perfect scenario," Chris said. "The most perfect weather imaginable, and slicing through the fluffiest powder I've ever experienced."
Of course, not all was perfect. It never is when you take the kids, whether they're eight or 28, as is my son Matt. As soon as we got off the gondola that morning, I wanted everyone to pose for a picture, but Matt wasn't feeling well and headed back down. We didn't let that deter us from one of the best ski mornings we've had in memory, however, and luckily, Matt felt well enough to join us at noon.
Chris was so enamored of his dad's favorite mountain that the next day, he stayed on the mountain despite a snowstorm that drove everyone else indoors.
"Turns out, my dad was right," Chris said. "Aspen and neighboring Snowmass lived up to the old man's hype. And then some."
There was just one downside. We didn't make it to all four mountains.
Next year, perhaps.
(Read Eileen's travel diaries on the Aspen-Snowmass Trip)
© 2012 EILEEN OGINTZ, DISTRIBUTED BY TRIBUNE MEDIA SERVICES, INC.