Originally posted 2011
By Eileen Ogintz
Schnapps or Whiskey with my hot chocolate? The waiter wants to know.
He's come by my kayak this morning. Our ship, the Lindblad Expedition's National Geographic Explorer is anchored nearby. It is a spectacularly sunny day here in the arctic and the waters couldn't be calmer. We take off our hats and unzip our parkas. An arctic bird swims beside us; there are jagged snow-covered peaks.
In fact, the name Spitsbergen where we are means "jagged peaks" first given to this region by Dutch explorer William Barents back at the end of the 16th century. This island may be one of just three inhabited in the archipelago but we don't see any people—just other kayakers from our ship.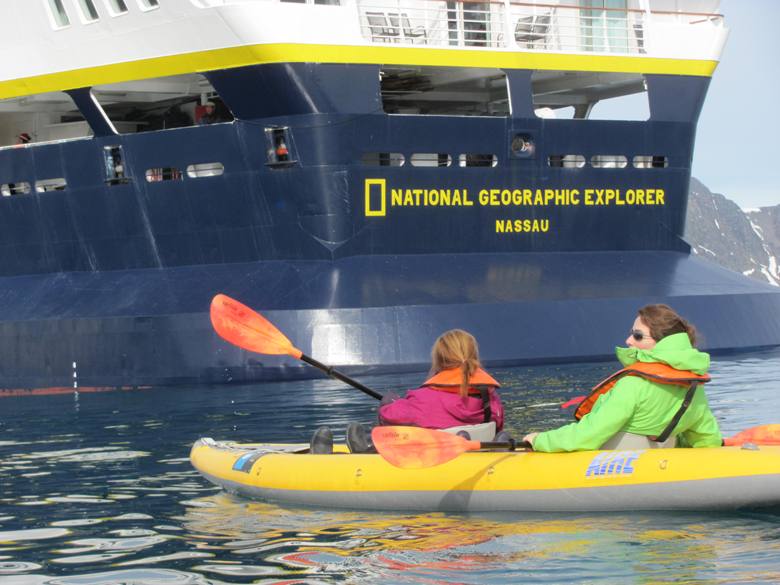 "I got water in my boots, but I want to go again," said 9-year-old Evie Plunkett, traveling with her grandparents from Texas. It was her first time in a Kayak and she didn't want the experience to end. The kayak-service hot chocolate didn't hurt either.
We are in bright yellow inflatable kayaks steering with foot pedals (I feel kind of like I'm on bumper cars cruising around the fjord, the ship in the distance, crew watching us from zodiacs. As safety is always a concern here, we are given signalers to wear around our neck—should we tip over. But the kayaks are steady and the water so calm. It is only 32 degrees but with the sun shining, it feels much warmer.
It is the last full day on board. Some are disappointed that the wildlife hasn't been as abundant as in other areas like Antarctica, the Galapagos and Africa. "I wanted to get closer to the animals but it is what it is," said Deborah Williamson, from New Hampshire.
"I'm glad it isn't a longer trip," added another guest.
"Not as exciting as Antarctica," said a third.
Still, this is a wonderful trip—a time for quiet reflection and watching nature at its finest and wildest—a chance to connect with nature, urges author Richard Louv, on board to discuss his latest book "The Nature Principle," and our disconnect from the natural world.
Such an experience in the wild can shape children's entire vision of the future and of themselves in it. 
A tip from mom Lisa Douglas, traveling with her 12 year-old son Henry: Make sure there are other youngsters on board if that is important to your child. "This was our fourth Lindblad trip," she said, and the only one without a group of kids. That was a huge component in terms of Henry's enjoyment, though he certainly appreciated all we saw and did… the environment is so wonderful and so different!"
Captain Oliver Kruess notes that this is a more challenging environment to see wildlife both because of the weather—the fog can prevent us –as well as predators on land like the polar bear, wolf and fox. "The animals are shy and more careful," he said.
Yet kids—including his own six year old son—love the experience of the Arctic, looking for bears, walruses and whales, riding (and if they are lucky) learning to drive the zodiac, kayaking in the calm arctic waters, hiking across the arctic tundra and along pebble-covered beaches and even taking a polar plunge in the 40 degree weather as 9-year-old Evie Plunkett and her grandmother Sarah did this morning.
"I'd never live it down if I didn't do this with her," she said as Evie stood by giggling and waiting her turn. "SOOOOO cold," she said shivering when she got out and into a terry robe.
Her grandfather Bill is thrilled with how this trip turned out, full of so many firsts for Evie, her first trip out of the country, her first trip in a zodiac, her first on a ship and her first in such a wild and pristine place."We are really tickled Evie is taking to nature as much as we do," he said. "She'll never forget this week."
There's one life lesson that may stand out, he adds, after seeing the4 awesome power of the bears. "We humans can't control all creatures," he said.
Polar Bears, conceded Evie, "Are a lot bigger than I thought." And she's got the photos to prove it.