By Eileen Ogintz
Tribune Media Services
Orla Duffy brought her three daughters to Orlando for a "girls' weekend" but they weren't planning to ride a single roller coaster, or even set foot in a theme park.
"We're here to shop," the Jacksonville, Fla., mom declared. A little pampering was on the agenda, too. After mom and daughters, who range in age from seven to 14, finished their complimentary hot chocolate and cookies at the Ritz Carlton's Club Level lounge, they headed to the resort's luxurious spa for mother-daughter mani-pedis. (Kids as young as two can get a Princess Fizzing Manicure.) The lounge with its complementary eats and media room, complete with popcorn machine, is such a hit with families that club level rooms sell out first, even though they are the priciest.
"This hotel has a really good atmosphere," says 14-year-old Rachel Duffy. "And everyone is really nice," adds her 13-year-old sister, Sarah, who wasn't sorry to be skipping Orlando's theme parks — not when there are 12 shopping malls and outlet centers big enough to fill 900 football fields (www.visitorlando.com ).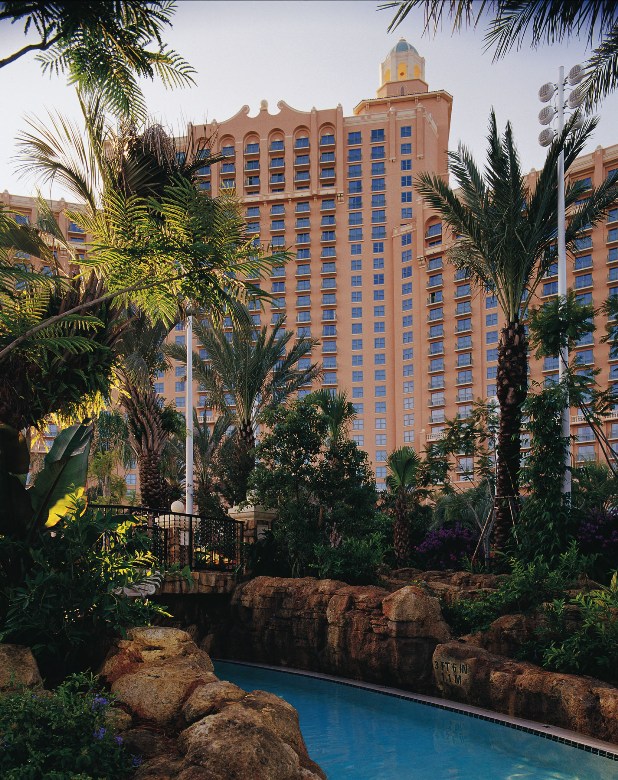 As Orlando gears up for the much-anticipated opening in June of Universal's "The Wizarding World of Harry Potter" — 20 acres within Universal Orlando's Islands of Adventures (http://www.universalorlando.com/harrypotter/ ) — keep in mind there are plenty of options to stay — some 115,000 hotel rooms, including more than two-dozen new hotels, including the brand-new Holiday Inn Club Vacations Orlando (www.hiclubvacatons.com ) offering seven pools, a water park, four golf courses and an 80-acre private lake complete with jet skiing and fishing. And also the Coco Key Hotel and Water Resort-Orlando (www.cocokeywaterresort.com/ ), which in honor of Military Appreciation Month, offers rates as low as $89 a night to members of the U.S. Armed Forces. Coco Key has four pools and 14 waterslides, some designed for the littlest water lovers. Wherever you stay, your gang will have lots to do besides hitting the latest attractions and so will you. Did I mention the 176 golf courses and more that 5,000 restaurants?
Even families who hit the parks can easily escape in the evening to upscale digs that welcome kids and won't bust the budget. "I can only take six hours of Disney," says Sarah Lammersen of Los Altos, Calif. She's staying at the new deluxe Waldorf Astoria (http://www.waldorfastoriaorlando.com ) — the first outside New York City — with her three daughters, ages 10, 7 and 3. "This is a beautiful new hotel. We can have a nice breakfast that doesn't have characters!"
On a recent rainy morning, she and the girls were playing in the Waldorf's kids club, which I found very oddly placed inside the hotel's fitness center, though Lammersen didn't seem to mind. "I'd stay here again," she said. An Atlanta mom, Tan Marks, emailed me that her 6-year-old has been angling for a return visit since they stayed late last year. Another plus: The Waldorf, which has a spa and golf course is connected to the new Hilton Orlando Bonnet Creek (http://www.hiltonbonnetcreek.com) with its lazy river pool that's guaranteed to be a hit with young hotel guests. (A tip: rooms at the adjacent Hilton are $75 to $100 a night less.)
Come summer, rates at even the most deluxe hotels outside the parks drop so that your family can put on the Ritz — literally — at a price you can afford. (Summer packages at the Ritz and the adjacent JW Marriott, http://www.grandelakes.com/ , offer rooms for under $200 a night.) If your kids love SeaWorld, there's the Renaissance Orlando at SeaWorld (www.renaissanceseaworldorlando.com ) complete with wizard hats for the kids, spa discounts for the parents and free food all day for the kids — all this for just $149 a night.
The tony Waldorf Astoria Orlando is touting a "Spring into Summer" deal starting at $199, including a free night, as well as a Wandering Wizard deal also available at the Hilton Orlando Bonnet (www.hilton.com ) next door, which includes breakfast and a magic wand and starts at just $134 a night at the Hilton. (A Tip: Become fans of these resorts on Twitter and Facebook for access to special deals and, with occupancy outside the parks below 70 percent, there are plenty of deals to be had at all price points, whether you want to score a room for $50/night or a bargain at a luxury resort (www.visitorlando.com ).
Avoid the lines at the Wizarding World and opt for one of Universal Orlando's three four-star Loews' Resorts. At the Loews Portofino Bay, Hard Rock and Loews Royal Pacific Resort (www.loewshotels.com ), those staying on the property get front-of-the-line access and the littlest visitors at Loews Royal Pacific and Portofino Bay get welcome kits from Fisher-Price and a selection of their toys to borrow, as well as a selection of baby gear. (Need a potty seat?) There are dive-in movies, kids clubs and even special kids' dining areas in the hotel restaurants. Got a dino lover in the crowd? He'll love the Jurassic Park Kids' Suits at Loews Royal Pacific. (The longer you stay, the more you save with Loews' Stay More, Save More packages.
Let's not forget new choices from The Mouse. Disney's new Vacation Club (www.disneyvacationclub.com ) offerings are available for anyone to rent. Take your pick: a modern, deluxe condo adjacent to the Contemporary Resort called Bay Lake Tower with spectacular views smack in the middle of the action; a tree house at the Saratoga Springs Resort (in a natural forest near Downtown Disney 10 feet off the ground) or the chance to watch the giraffes and zebras cavort from your balcony overlooking the Savannah at Kidani next to Animal Kingdom Lodge, which is also home to a great Africa-inspired restaurant where you can watch zebras graze while you eat.
Some of these units sleep nine comfortably and have three bathrooms, and, while not cheap, they are certainly a better deal than two or three hotel rooms, especially when you figure in the meals you won't have to eat out — always a trial anyway with young, tired kids.
But then there's the Grand, as they call Disney's Grand Floridian Resort, which is located one monorail stop from the Magic Kingdom. "It's so worth the money," said Atlanta mom Kerry Herron. There's the sand beach with a zero entry pool, water slide and even a yacht you can rent for $500-plus an hour to get a first-rate view of the fireworks and a spa where I met an 8 year old about to enjoy her first massage. The hotel is the priciest at Disney World but its convenience can't be beat and it also offers the most children's activities — a tea just for little girls (no parents allowed), as well as a just-kids pirate cruise and evening kids' club so parents can enjoy an adult dinner perhaps at the hotel's signature Victoria and Albert restaurant — five diamonds with 10-course tasting menus. (Check www.disneyworld.com for the latest deals promising up to 30 percent off this summer on lodging and dining packages.)
Alice in Wonderland skips through the lobby while kids perch on pint-sized chairs to watch cartoons.
If you prefer not to run into Alice, the Ritz Carlton — connected to the JW Marriott with its gigantic lazy river pool (www.grandlakesorlando.com ) — has got it all for luxury-minded families, from the golf course (kids play free) to the 40,000-square-foot spa. (Ready for an Eco-Roof Hammock experience or an Ashiatsu massage where therapists use their feet?) If that's not your thing, you can take the kids and kayak or canoe through the headwaters of the Everglades (at Shingle Creek), try your hand at a ropes course (there is a junior course, too) or grab some adult time while the kids are happily entertained at the huge Ritz Club. Kids complete with playground and water features outside. Kids have their own check-in complete with scavenger hunt and are invited to visit the big garden that is harvested daily for Primo, one of the resort's restaurant, where they might watch the chef make them a pizza.
Even locals love to check-in. "The employees make it feel like a second home for me and my children," said single dad Ernest Provetti, who just visited for Easter with his three kids.
And in the end, that's what matters most. Next trip, look for me on the eco-roof.
(For more on Eileen's visit to Orlando, read her TRAVEL DIARIES )
(c) 2010 EILEEN OGINTZ DISTRIBUTED BY TRIBUNE MEDIA SERVICES, INC.