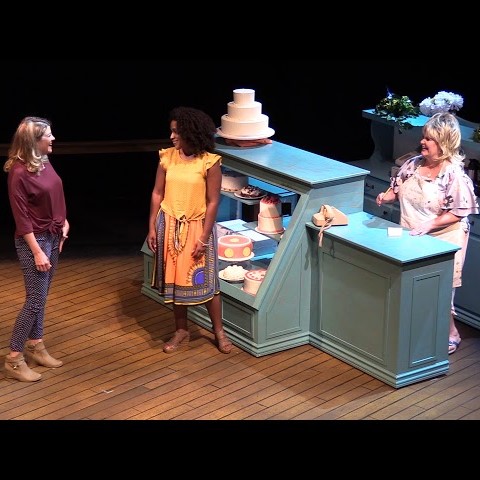 By Meghan McCloskey Boydston, Taking the Kids Correspondent
Talking about controversial issues doesn't seem so hard when it's paired with comedy and confection. That's why The Cake, a play featured at Denver's Curious Theater Company, is good for both the mind and the stomach.
Bekah Brunsetter's play invokes the narrative of the recent US Supreme Court case in which a Colorado couple, David Mullins and Charlie Craig, were denied service by Masterpiece Cakeshop when they requested a wedding cake (the play is set in North Carolina and does not result in a lawsuit). It all sounds serious – but the play is both heartwarming and silly, and filled with many scenes that will fill your eyes with tears from laughter rather than despair.
According to Producing Artistic Director, Chip Walton, "It's a play about the people you respect the most in your life upsetting your assumptions about the world, and it brazenly suggests that fellowship might still be possible amongst people with who you fundamentally disagree, over a delicious piece of cake."
In today's divided political climate, many of us avoid those who have different views from us, creating a deeper divide and greater misunderstanding. The Cake grapples with this tension and presents an alternative – what if we choose to love those with whom we disagree?
Living through the events surrounding this case and civil rights in Colorado in 2014 and 2015, I didn't have the deep conversations with my fellow citizens that perhaps these events warranted. I didn't speak with anyone who may have disagreed with the Colorado Civil Rights Commission decision that Masterpiece Cakeshop violated the Colorado Anti-Discrimination Act when it refused service to David and Charlie, probably because it would have been too hard or tense.
While it's easy to celebrate a court decision that positively impacts people you care about – a same-sex couple I knew married shortly after it became legal in Colorado in 2014 – it's harder when the highest court in the country rules against your beliefs, as the Supreme Court did when it reversed the state commission's decision on Masterpiece Cakeshop in June 2018.
Not only are these conversations important – we can't make progress when we are divided – they can also be healing. The Curious Theater Company creates a fun and non-threatening venue by offering discussion questions and even leading the discussion after the curtain closes. For those of us who continue to feel discouraged, the play's program includes resources to get involved in social justice and equality for LGBTQ+ people.
"The Cake specifically takes an issue that is very cut-and-dried to most people (regardless of which 'side' you are on) and fills in the grey. That grey allows all of us the opportunity to learn, grow, and form more complex opinions" states Katie Maltais, Curious Theater Managing Director.
For teens who don't want to talk to their parents about anything – from current events to the grade on their last test- there is a Curious Theater Company teen night. Teens can enjoy a backstage dinner, opportunity to meet the cast members and chat with their peers – for only $5 per show.
The Cake will be running at Curious Theater Company through October 13th, but the play will be produced around the country, including at the Manhattan Theater Club.
I left the theater, cupcake in hand, feeling more empowered and motivated to have the tough conversations.