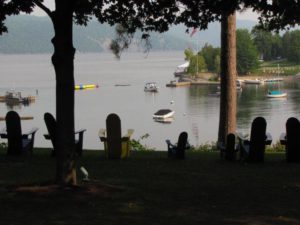 VERGENNES, Vermont (Labor Day weekend 2010) — The kids are sitting in a circle or pint-sized Adirondack Chairs –blue, red, yellow and green ones—alternately listening to a story, eating Goldfish and gulping juice.
Parents are nowhere to be seen. No it's not the first day of preschool. It's the last gasp of summer at Basin Harbor Club (

www.basinharbor.com

) in Vergennes, VT, about an hour from Burlington.
"It's nice to have programs like this where we can go out and do stuff and not leaving them in a hotel room with a sitter," says Laryn Gardner, a mom of three young children including a 20-month-old from suburban Boston. The fact that there is a terrific playground and activities center where she can leave her toddler (for an extra fee) as well as her five and four year-olds without guilt or worry makes the vacation for her and her husband. They can exercise, go for a bike ride, kayak, or just sit and read for an hour or two at the resort on the edge of Lake Champlain that is celebrating its 125th anniversary next year.
"If you leave the kids in a room with a sitter you feel guilty," Gardener said, "You can't relax. Basin Harbor is different. The cabins are roomy and comfortable if a bit dated; the food so-so. "But we didn't come for that Gardner said. There's even an evening program so parents get a break at dinner.
The resort—built on 700 acres—includes 77 cabins that were built before the 1940s. The same families have been coming for generations for the same illusive qualities that first brought families here more than a century ago—the lake front, the chance to be together whether reading a book, playing croquet on the lawn or going out in a sail boat or kayak. "People do the same things now that they did then," said Bob Beach, whose family has owned the resort from the beginning, when his aunt Ardelia Beach bought the land down the road from the family farm after her true love was killed in the Civil War. "She told everyone she was going to turn it into a resort so that people could watch the lake go by," Beach said. And that's exactly what she did, attracting families who came by train and two hour surrey ride to stay two weeks or a month in the fresh Vermont air.
Today there is a "teen hideaway" a golf course and a fitness center, water skiing, tennis and golf lessons for kids, as well as adults. Men still must wear jackets for dinner in the formal dining room, although there is a more casual alternative. Local farmers come to dinner once a week to showcase their wares — cheeses or mushrooms, perhaps trout. Tweens and teens sit in the lobby and text their friends; younger kids race around on bikes, stopping at the Harbor Store for 25 cent candy or ice cream cones. It is the kind of place parents feel is safe to let grade schoolers wander—more than at home. There is a dog beach just for dogs and pooches, including mine, get a welcome bag of dog treats when they arrive.
Kids who first came here as youngsters now work as counselors in the day camp; others have been married here. Generations of family memories are in these cabins and the dining room. It's nice to see places like this still exist in these times. It's nice for families to slow down long enough to enjoy it—and each other.
"We've been here five times," said Sue Weinstein, a nursery school director from Westchester NY who was showing her two young nephews around. "They make everyone feel special, even the kids."