By Eileen Ogintz
Tribune Media Services
Meet Ethan Eagle.
Let's not forget Oscar Osprey, Brett Bison, Freddy Frog and Tommy Trout.
My young cousins Ethan Sitzman, 9, and his sister Hannah, 6, who live in Denver, named all the wildlife we saw as we explored perhaps America's greatest natural zoo — Yellowstone National Park where 67 species of mammals, 322 species of birds, six species of reptiles and four species of amphibians call home.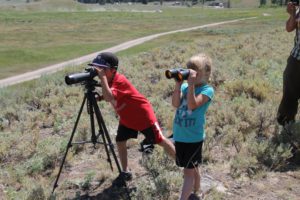 But a visit to a national park — even Yellowstone — is more than the chance to see wildlife and spectacular scenery, like the two enormous waterfalls at the Grand Canyon of the Yellowstone, geothermal features like Old Faithful (Did you know Yellowstone has more geothermal features than anywhere else in the world?) or to learn that Yellowstone was originally named for the yellow tint in the rock, derived from sulfur.
A visit to a national park is about stepping out of your comfort zone, overcoming challenges as a family, whether on a long kayak paddle before 7 a.m. (yes, that was us on Yellowstone Lake last summer leaving our wilderness camp where we'd spent two nights as far away from tourists as we could get) or in Ethan's case, overcoming a long-held fear.
As we celebrate National Park Week from April 21 to 29 (all 397 national parks are free with many special activities offered.) It's important to remember that the best part of a national park experience can be the chance to reconnect with the outdoors as a family. "Kids forget about iPads, iPhones, TV, etc., says Dan Austin, of Austin-Lehman Adventures whose company has been leading trips to Yellowstone, and other national parks, for more than 25 years.
"These experiences open the mind to endless discoveries and, more often than not, a passion for the outdoors that can last a lifetime," he says.
It's something I've witnessed in my own family. My youngest daughter, Mel, says those national parks trips when she was little (and complained her legs were "broken" from all the hiking) spurred her interest in environmental science — her college major; her older sister, Reg, went on to lead teens on wilderness trips in national parks and now works for Vida Verde, a California nonprofit organization that enables inner-city kids to have outdoor experiences. (Think hiking past towering redwoods, exploring tide pools or getting up close and personal with goats.)
Head to a national park near your home and celebrate Junior Ranger Day on April 28. Whet your kids' appetite for a summer visit to a national park through WebRangers, the National Park Service's site for kids, which offers all kinds of activities and games. To date, some 200,000 kids have taken part in the program! In honor of National Park Week, Lonely Planet has created a free download of the USA's Best National Parks' Top 15 Experiences, including great planning information, from their "Discover USA's Best National Parks" guide. It's available on their Facebook page or at LonelyPlanet.com.
Wherever you are outdoors, especially in a big national park, the key is to slow down and get out of the car (many visitors don't) and off the beaten track, Dan Austin says.
That's how we were able to watch Yellowstone's famous bears safely. Rangers estimate that about 150 grizzly bears and more than 500 black bears live in the park and visitors are cautioned to stay at least the length of a football field away from them. Our Austin-Lehman guide, Matty Kirkland, spied one from our van, turned around, parked and raced up a hill with his scope so we could watch as the bear (the kids named him Bobby) snacked on greens amid the wildflowers hundreds of yards away, oblivious to our presence.
Certainly watching that bear in his own environment from a safe distance was a wondrous site, but more important was watching Ethan triumph over his fear of the lumbering beasts, once Kirkland convinced him to peer through the scope.
Until that moment, I'd wondered if we really needed guides in Yellowstone. It's not a far-flung destination, after all, where we don't speak the language. But throughout that trip, we saw a far different Yellowstone than we had in the past and it was far more relaxed. Our affable Austin-Lehman guides not only got us away from the crowds to places I wouldn't have found, but also thoroughly entertained the kids (they sat between a giant stuffed bear in the van), had snacks at the ready, told us what to look for and then explained what we were seeing. We didn't have to worry about hard-to-get hotel reservations and the best part: The kids didn't bicker or whine because they were having so much fun. (All-inclusive Austin-Lehman Yellowstone trips start at $367 per day for adults and $293 for kids. A new Montana Family Camp itinerary that includes Yellowstone is less expensive.)
Other companies, including Adventures by Disney, Backroads and Tauck Tours are among those who also offer special guided Yellowstone and national parks trips for families, enabling you to focus on the experience rather than the logistics.
If your kids are 8 or older, you can also sign on for a five-night Total Yellowstone package through the park's concessionaire (pricing information).
If you prefer going on your own, take advantage of ranger-led activities. Ask their advice for kid-friendly hikes and experiences inside the parks. Use websites like ParkVisitor.com, which pull together user reviews of U.S. national and state parks and more with insider tips (even where to get a good burger). For iPhone and iPad users, there's even a new Passport to Your National Parks app. Don't despair if you can't get reservations when and where you want to go. Consider some of the less visited but equally wonderful parks like Theodore Roosevelt in North Dakota, Sequoia and Kings Canyon in California, North Cascades in Washington State and Mesa Verde in Colorado, among others (www.nps.gov.)
Last summer, after three days and two nights camping in Yellowstone, Ethan and Hannah had completed the activities required to become Junior Rangers (everything from tracing the route we'd taken through the park to checking off all the animals they'd seen) and they stood proudly at the Mammoth Hot Springs Visitor Center as a ranger swore them in as Junior Rangers.
Watching their excitement at being in one of our country's greatest treasures was worth every mosquito bite we'd gotten.
"As a Yellowstone Junior Ranger … I will continue to learn about the natural world, even after I leave Yellowstone," they pledged.
I hope they will. I know they won't forget the days they've spent here. And that's a good first step.
(For more on Eileen's trip to Yellowstone and Montana, read her Travel Diaries)
© 2012 EILEEN OGINTZ, DISTRIBUTED BY TRIBUNE MEDIA SERVICES, INC.