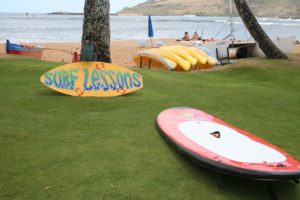 By Eileen Ogintz
Tribune Media Services
We are at the end of the road — literally.
We've driven to the end of Kuhio Highway on the North Shore of Kauai to Ke'e beach — past some of the most luxuriant plants I've ever seen. Spectacular beaches abound here on Kauai, including Lumahai beach where Mitzi Gaynor "washed that man right out of her hair" for the filming of "South Pacific." There's also the town of Hanalei of "Puff the Magic Dragon" fame.
My daughters and young cousin are going to hike part of the iconic Kalalau Trail — the start of the Na Pali Coast and one of the most famous hikes in Hawaii, which goes first to Hanakapiai beach then to a waterfall (eight miles round trip for that portion). To go farther, you must backpack and get a permit.
Kauai (www.kauai-hawaii.com) has morphed from the garden island to the adventure island. There's snorkeling and surfing, of course, hiking (Waimea Canyon is considered the Grand Canyon of the Pacific), three National Tropical Botanical Gardens (www.ntbg.org) to explore, zip lines and kayaking (we go with www.outfitterskauai.com). We even spend an evening at Luau Kalamaku (www.luaukalamaku.com).
"Less people on Kauai and less crowded," declares 15-year-old Yuri Tachibana, here with her family from suburban New York, though she used to live here. "It's calm not boring … paradise!"
I feel we're getting to the "old" Hawaii on Kauai but when we get to the North Shore we've really arrived. Sure there's the developed golf and beach community of Princeville with the oh-so-fancy St. Regis Hotel (www.stregisprinceville.com) and Westin Vacation Villas (http://www.westinprinceville.com/) but there is also the largest taro industry anywhere in the state.
Hanalei and beyond makes me think this is what Hawaii used to be like — one-lane bridges, narrow, winding roads, shaved ice stands selling flavors like Li Hing Mui (sweet Asian plum) and Guava, small shops with colorful Hawaiian shirts hanging outside.
"It's totally different here on the North Shore," agrees Laura Richards, a longtime resident who oversees the 52-unit condo Hanalei Colony Resort (www.hcr.com). "The Aloha Spirit is alive and well here. It is relaxed, laidback — only 4,000 people to the end of the road, and we take pride in being the native guardians of the land."
Locals come to fish here just as their ancestors did. Everyone comes for the beaches — to swim, to snorkel at Tunnel Beach, to kayak and surf. "There is the real Hawaii feel. Four or five days here and you are a different person," Richards promises. "After a couple of days you won't remember what day it is you are so in tune to the beaches. This is pure nature at its best."
This is the place for those who want to do it on their own. There are comfortable, two-bedroom, two-bath condos on a stretch of beautiful beach where Richards, the general manager, will know your kids' names by the second day, where you can attend a luau with just 80 people or have a barbecue at the new pool. (Volunteer at the National Tropical Botanical Garden nearby and get a room discount or take a break at the spa while the kids join the Na Nea program — four hours of hands-on crafts and Hawaiian culture (just $15 here, as opposed to $60 at most major resorts).
Yarrow Beydoun, Richards' daughter and the mother of two sons, ages 10 and 13, says another plus is that kids can go anywhere here safely — fishing, boogie boarding, bike riding. "I can't think of many places in the world I'd give them this much freedom," she says. Yarrow runs the Hanalei Colony Resort's restaurant, Mediterranean Gourmet, with her husband.
"Don't just do paid activities," mother and daughter urge. "Get in touch with nature on your own terms and find people who can help you do that."
Another tip: Don't run yourself ragged trying to see too many islands. Two for a 10-day stay is plenty. "The beauty is getting used to Hawaiian ways, to settling down and relaxing."
You can find every variety of accommodation from simple condos to the deluxe resorts for which Hawaii is known. We sample two resorts during our visit and aren't disappointed. The centrally located and just renovated (to the tune of $50 million) Kauai Marriott (www.kauimarriott.com) — just five minutes from the airport — proves an ideal locale for exploring the island. The 26,000-square-foot pool is the largest single-level pool in the Hawaiian Islands, complete with water slide for the kids and the new sushi restaurant and a golf course being re-designed by Jack Nicklaus all add to the allure.
The Grand Hyatt Kauai Resort & Spa (www.grandhyattkauai.com) has just completed the first phase of its own renovation. My girls and I love the spa there, set in lush gardens, and the network of pools designed to look like natural swimming holes. Kids race from one pool area to another, jumping into the pool, heading to the water slide and saltwater lagoon near the beach. "There is not a better family hotel," declares Kim Cheikha, a mom of four who has been returning here for years. Around the pool, it's a sentiment I hear repeated again and again.
Both resorts teem with families determined to squeeze every bit of fun out of their hard-earned Hawaiian vacation. Is there really a recession? Absolutely, they're feeling the pinch, locals and hoteliers say, but there are still plenty of deals to be had. Check out the new travel site www.3dHawaii.com.
Wherever you stay on Kauai, says longtime resident Brad Snyder, area general manager of the Kauai Marriott Resort, "you've got to slow down and appreciate the land, the ocean, the environment … that is the true Hawaiian experience."
I'm trying. At the appointed time, we're back at the end of the road to pick up the girls, muddy and smiling.
"Shaved ice!" they demand.
We savored every bite.
For more on Eileen's trip to Kauai, read her travel diaries
© 2010 EILEEN OGINTZ, DISTRIBUTED BY TRIBUNE MEDIA SERVICES, INC.