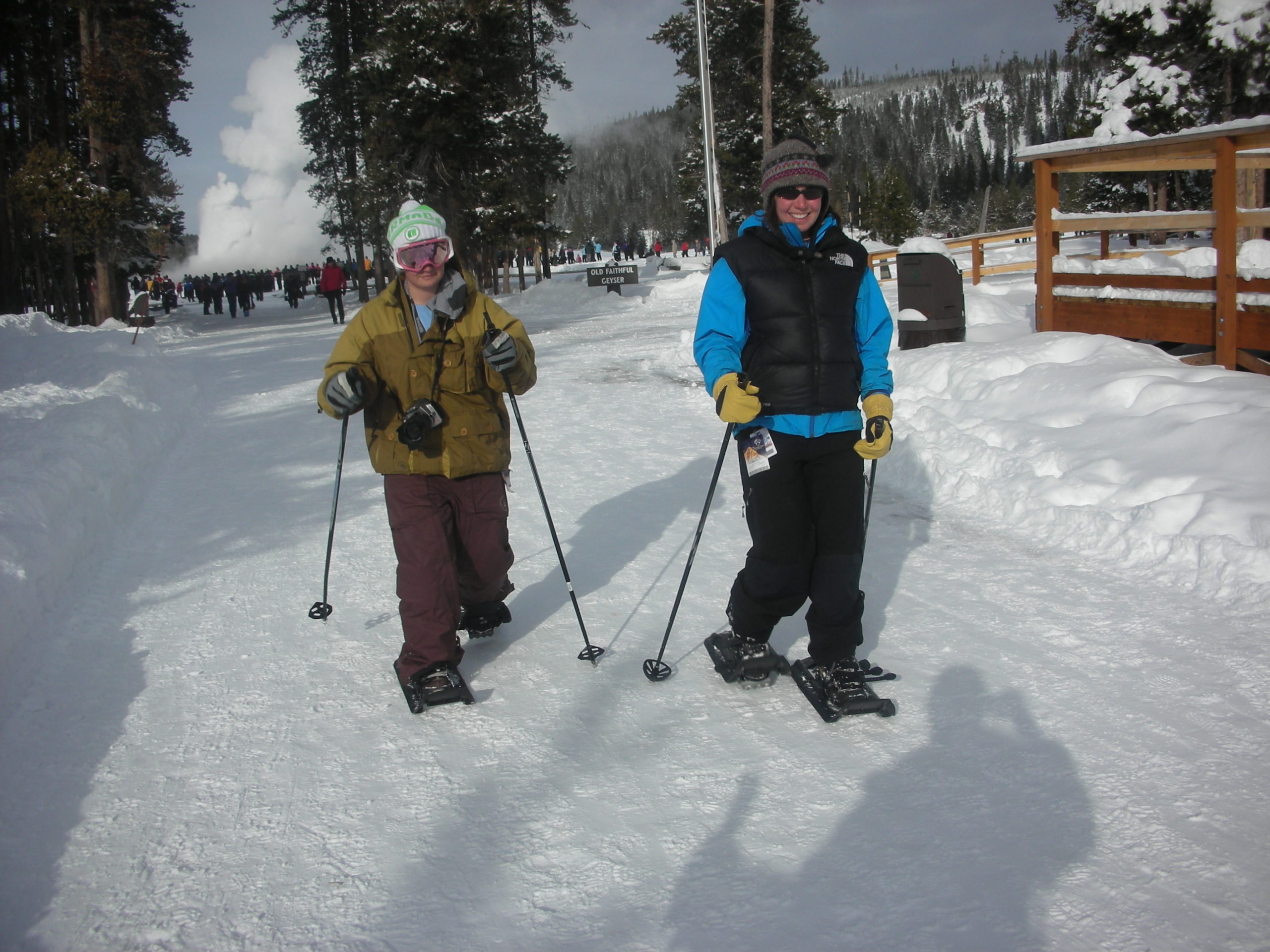 By Eileen Ogintz
Tribune Content Agency
What's up, Gertrude?
We were a lot more interested in her than she was in us, I'm afraid. Gertrude (the name we gave him or her) was one of the 1,800-pound bison we encountered on a snowshoe trek around Old Faithful in Yellowstone National Park one cold winter day.
I love Yellowstone in winter — no crowds, lots of animals and the chance to see Old Faithful and other thermal features without any crowds. (Did you know Yellowstone has more thermal features than anywhere in the world — 10,000 bubbling mud pots, hot springs and geysers?) Honestly, we felt like we had the whole place to ourselves.
That's because the only way to visit Old Faithful and other interior attractions in the winter is by snowmobile or guided snowcoaches that follow the park roadways. It's also a lot easier to get a reservation inside the park in winter, but there are only two lodging options — at Mammoth Hot Springs and the Old Faithful Park. (Xanterra Parks and Resorts provide the lodging and other services, including evening programs, snowcoach tours, guided ski and snowshoe tours, guided snowmobile tours and wildlife bus tours.
Talk about a winter wonderland! Steam erupts from the park's ice-covered ground, bison lumber along and fox cross the snow-covered roads. This is the time of year when the park is at its most serene. Few places have as much wildlife, including wolves, bear, elk, deer, moose, big horn sheep and the largest concentration of bison in the country.
But of course, Yellowstone Country is wonderful in other seasons too. I just got back from a fall visit. I was attending a conference at Mountain Sky Guest Ranch, which is about an hour southeast of Bozeman, Montana, in Paradise Valley, 45 minutes north of the Gardiner/Mammoth entrance to the park. Think horseback riding, early-morning hikes to watch the horses graze and, of course, the chance to see all the wildlife in Yellowstone. (Fall is the time when the elk "rut" and it is quite a show as bulls gather cows into small groups, bugle to attract them and then wage battles with other bulls to keep them away.)
We've visited Yellowstone in summer too — rafting on the Yellowstone River, camping on Lake Yellowstone. It's all good and with 2.2 million acres, if you try, you can get away from the crowds.
I just think there is something really special about Yellowstone in winter.
(Hwy 212 between Gardiner (north entrance) and Cooke City, Montana, is the only road open to wheeled vehicles year-round. You can also snowshoe or cross-country ski in. The park closes the other entrances to vehicle traffic the first week of November to allow grooming for winter season. They re-open on Dec 15 for winter access.
We've snowmobiled in Yellowstone too (you can even cruise a 25-mile Boulder Canyon Trail through meadows and even an old abandoned mining town), but I prefer snowshoes. And besides the park, you can take your pick of hundreds of miles of National Forest Trails, whether you want to explore on snowshoes or cross-country skis — as much fun for the kids as for you — and no hefty ski lift fees!
Yellowstone Country, by the way, has one of the longest Nordic seasons in the country (November to April) and, locals promise, some of the most consistent snow. Montana claims it's the Nordic Ski Capital of North America attracting ski racers and biathletes that come here to train. It's a good place to learn!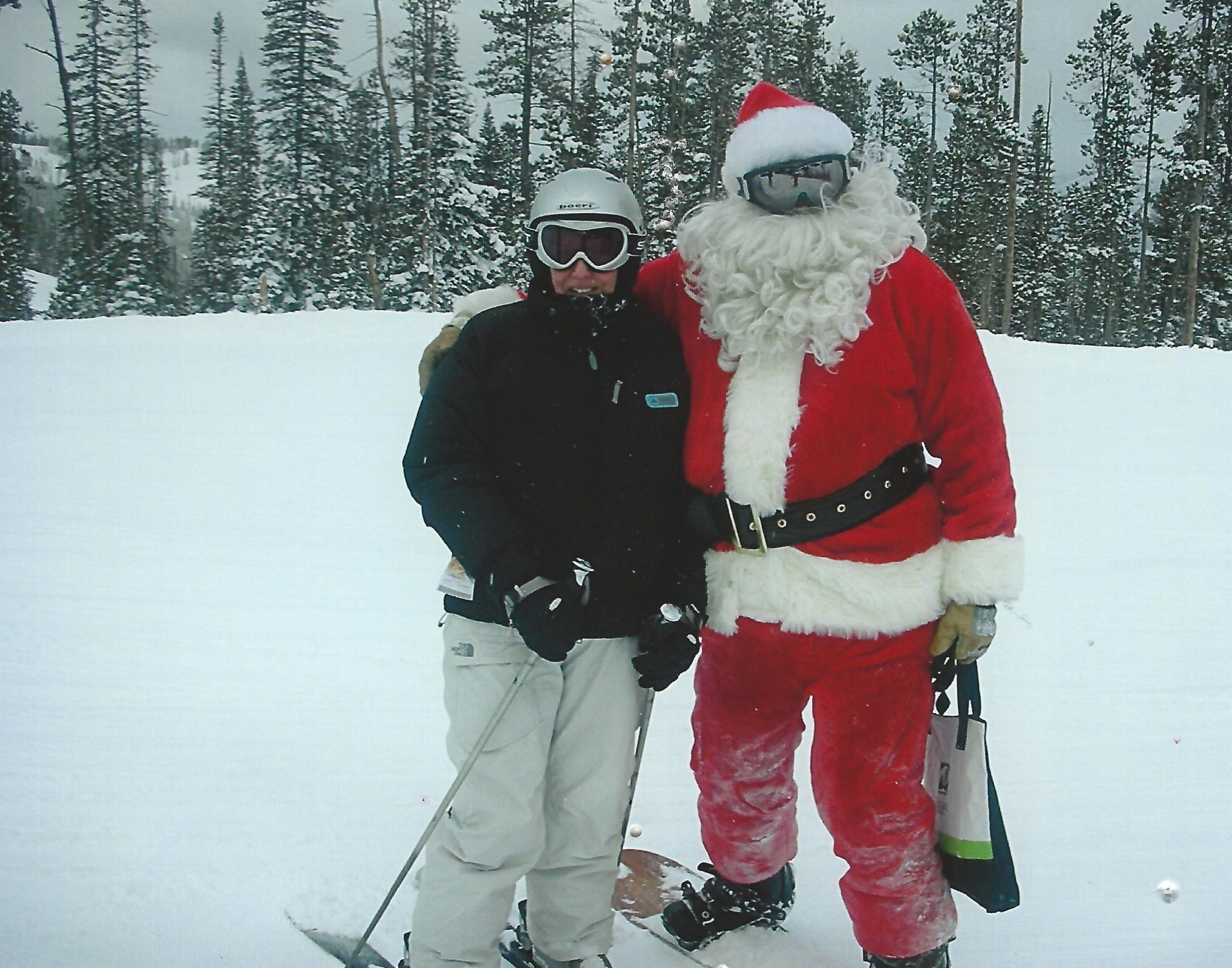 It's also a good place to downhill ski. It's one of the few ski resorts that offer the chance to ski and visit the nation's first national park at the same time. We skied with Santa — really — at Big Sky Resort one Christmas and were shocked that even during one of snow country's busiest weeks there were no lift lines. Whether you are a beginner or an expert skier, you won't get bored here — not with more than 5,750 acres and 4,350 vertical feet.
At Big Sky, kids 10 and younger ski free and the resort also offers free apres ski for kids. That's no small thing when kids' lift tickets can be upwards of $100. There's also the smaller Bridger Bowl Ski Area and Red Lodge Mountain, which are local favorites.
And when the kids get tired of fun in the snow, there are dinosaurs. The Museum of the Rockies in Bozeman, on the campus of Montana State University, should be a must-stop for any dino-lover. Jack Horner, the curator of paleontology at the museum, was the model for the character Alan Grant in all of the "Jurassic Park" movies. He has also served as technical adviser on the movies. No wonder this museum has one of the largest collections of dinosaur fossils in the world, including Montana's own T. rex. Montana's T. rex stands 12 feet tall and is approximately 40 feet from nose to tail. Discovered near the Fort Peck Dam, it is one of the most complete T. rex skeletons ever found. (Jack Horner's book "Digging Up Dinosaurs" is a great bet for young dino-lovers,)
Especially for younger kids, the museum should be a must-stop before you head to Yellowstone. The Martin Children's Discovery Center at the Museum of the Rockies is a terrific introduction to what they'll see in the park, including Old Faithful. (The kids can pump up a geyser themselves, "fish" from a fishing bridge, set up "camp" or even "cook" a meal.)
The only downside is that they won't want to leave to see the real thing!
(For more Taking the Kids, visit ttk-old.o2dev.net and also follow "taking the kids" on www.twitter.com, where Eileen Ogintz welcomes your questions and comments.)
© 2015 EILEEN OGINTZ
DISTRIBUTED BY TRIBUNE CONTENT AGENCY, LLC.