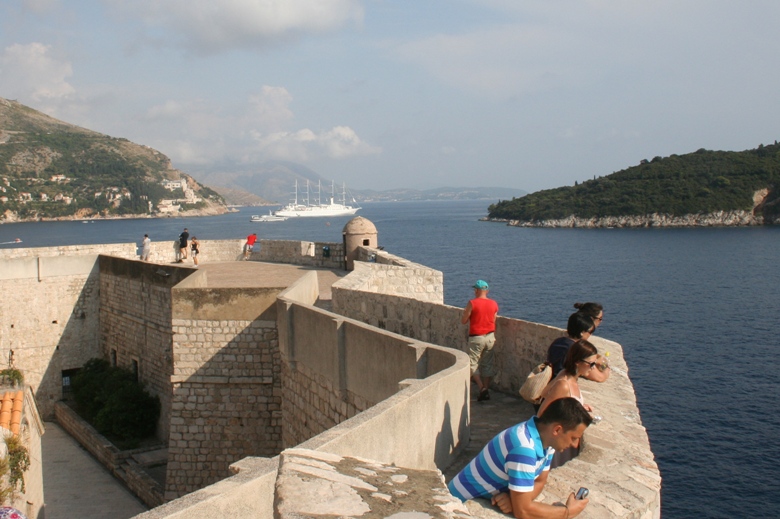 By Eileen Ogintz
Tribune Media Services
Where is my pedometer when I need it?
We're walking Dubrovnik's famous 14th-century walls with their view of red rooftops, the sea, kayakers and sunbathers.
Everyone says Dubrovnik is the "jewel of the Adriatic" and it's easy to see why — its Old Town is a UNESCO World Heritage site with a cathedral, a monastery, the oldest drug store in Europe, operating continuously since 1317 and the second-oldest synagogue in Europe dating back to 1652, though today there are so few Jews remaining there is no rabbi. "Everyone assimilates," our young guide Vedrana Vukosan said. "We're one big melting pot."
The tiny old town — just 1,500 residents — is a wonderful bet to give kids a sense of European history — ancient and more recent.
Just 20 years ago, from November 1991 to May 1992, Dubrovnik was under siege by Serbian and Montenegrin forces. The city was bombarded from the air and sea. More than 15,000 people fled the city. Electricity and water were cut off. "We used the old cisterns in the city," said Srdan Kristic, who helps run one of the large tour agencies here and was 18 at the time (www.elite.hr). "It was very hard for everyone."
The city's medieval walls helped protect the city and there was tremendous international publicity decrying the bombing of this historic city and in favor of granting Croatia diplomatic recognition. During the 1990s, money poured in for the restoration of the scarred facades and terra-cotta rooftops.
Today, tourists wander the crooked streets, licking ice cream cones, stopping on impossibly narrow streets where tables have been set out, inviting visitors to stop for beer and pizza.
Another day we were equally enamored of the Croatian island of Korcula — just three miles wide — and its medieval walls. The area is known for vineyards, olives, and Marco Polo. People here believe the famed adventurer was born here, though there is no concrete evidence to confirm that.
Just 3,500 people live here. Our guide, Katija Tedeschi, shows us churches dating back to the 14th and 15th centuries and explains streets are laid out so that the townspeople would get the maximum sea breezes.
I can't believe the 15th-century manuscripts we see with the writing still perfectly legible, the vestments embroidered by nuns in the 15th century, the Tintoretto painting and the fact that there are no crowds.
We meander the cobblestone streets and peeked into tiny shops, many selling every variety of Marco Polo souvenir. At the very least, it is believed Polo fought and lost a battle against Genoa here. After his capture, he was allegedly put in prison where he told his fantastic tale of his Chinese adventures to a fellow prisoner who then turned it into a best seller titled "The Million." (Because Marco Polo was always saying he saw a million of this and a million of that.)
We found our way to Maje I Tonke a tiny restaurant where the young owner set us up at an outside table and served us some of the house specialties — grilled eggplant, tuna, homemade goat cheese and homemade smoked ham, marinated anchovies, hummus, marinated zucchini, homemade bread followed by onion marmalade and polenta and the local wine. At just $80 dollars for four, it was not only a bargain, but one of the highlights of our entire trip — sitting outside in the sunshine overlooking the ancient medieval walls and the sea beyond.
Croatia, it seems, offers that perfect mix of historic sites, good eats and seaside fun. Kayak or sail along the coast. (Croatia has long been considered a premier cruising destination in the Mediterranean, with more than 1,000 islands. Charter a yacht from The Moorings, or opt for a family adventure with a company like Backroads or an escorted trip with Abercrombie and Kent.) There are vineyards (Southern Dalmatia makes really good wine) to visit, scuba diving and hiking.
Since this was our first visit and we had just one day in Dubrovnik, we opted for a tour that took us through the Historic Old Town to see the 15th-century Dominican Monastery, the Cathedral and the Bishop's Palace, originally built in the 15th century but rebuilt several times since.
We loved the local market where we bought prize-winning fig jam and sage honey from Nina Sardi whose family has a farm nearby. She pocketed our U.S. dollars with a gesture to her 17-year-old daughter who was helping. "For her college fund," she said. There is wild oregano and lavender at all the stands.
The majority of tourists come via cruise ship, as we did. (We were aboard Windstar.) Read more about our adventures in Croatia and Italy on the sailing vessel in my travel diaries).
I'm glad we had time to walk the walls. It's only about a mile and a half around (and $14 for the privilege), but you go up and down steep stone steps. The views of the Adriatic, the neighboring fortresses, the terra cotta rooftops and laundry hanging to dry were spectacular.
Kids we met loved checking out the bastions and the walls — 80 feet high and up to 10 feet thick on the sea side — even thicker on the other side. What a place for a history lesson!
According to local legend, Dubrovnik first developed in the 7th century. By the 15th century, gold and silver, as well as salt production was important here and it was an important trading center on the coast, a link between the Mediterranean and the Baltic. Most of the original construction took place during the 13th century. Much of Dubrovnik was destroyed by earthquake in the 15th century, killing more than 5,000 people — but the walls were reinforced with towers over the following 40 years.
I try to imagine families walking these walls so many centuries ago.
The kids were probably teasing their younger siblings, annoying their parents, complaining that the walk is taking too long and racing ahead laughing.
I'm guessing taking the kids hasn't changed all that much in 600 years.
© 2012 EILEEN OGINTZ,
DISTRIBUTED BY TRIBUNE MEDIA SERVICES, INC.