When planning a family vacation in Atlanta, don't make the mistake of thinking too big. Sure, Atlanta is sprawling, but when it comes to enjoying its many great attractions, thinking small lets you take in most of the top tourist spots.
In a relatively small area of downtown, most of Atlanta's best attractions are laid out within walking distance of each other. You'll find the Georgia Aquarium, World of Coca-Cola, CNN Studio Tours, Center for Civil and Human Rights, the Children's Museum of Atlanta, the College Football Hall of Fame, and SkyView Atlanta, the 20-story Ferris wheel, all bordering Centennial Olympic Park.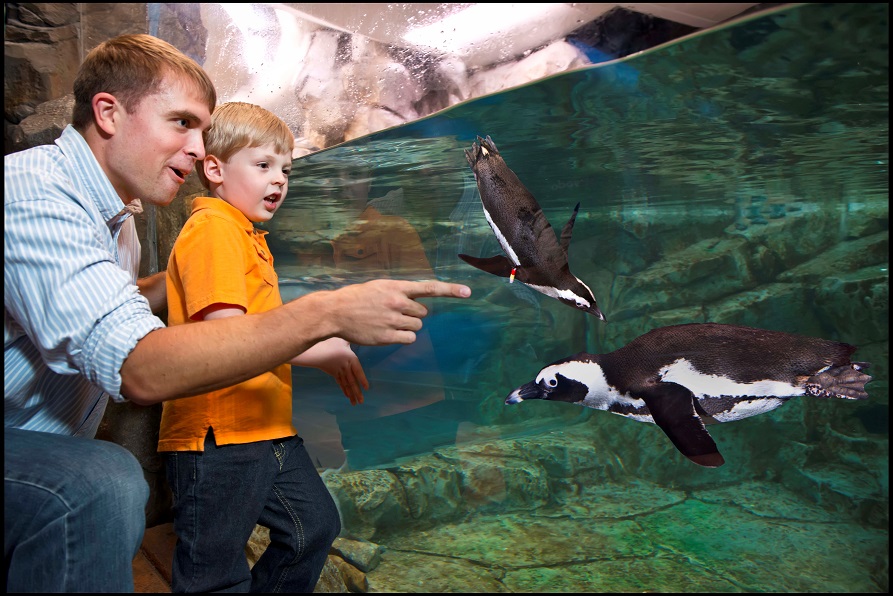 Cost-saving Tip: For a 40 percent discount on combined admission to five of the above-mentioned attractions, get a CityPASS ticket booklet for each member of the family. CityPASS ticket booklets are available online (citypass.com) or at the box office of any of the participating attractions.
Plan to spend several hours at the Georgia Aquarium, where the whole family will enjoy real entertainment and interactive fun. And don't be surprised to see a penguin or two waddling past you. As part of the aquarium's animal enrichment program, trainers lead several African penguins on a daily stroll (typically between 10-11 a.m.) through the building's main atrium, giving visitors an up-close look at this endangered species.
The aquarium's 4D Funbelievable Theater delivers special effects right to your interactive seat. And walking through the 100-foot-long underwater tunnel is a thrilling learning experience, with thousands of fish swimming overhead, including sharks, manta rays, and enormous whale sharks.
Hands-on Tip: For an extra fee you can get up close and personal with sea creatures, feeding—or even swimming—with them. (There are specific age requirements for the various animal encounters.)
Another attraction that's big on family fun is the World of Coca-Cola. The whole history of Coke, invented in 1886, is laid out in this sprawling, interactive museum, with an emphasis on Coke in the popular culture and in the arts. Kids will love Taste It!, an exhibit in which more than 100 Coca-Cola products from around the world can be sampled. But beware, your kids are bound to get a sugar high from all that soda, so a nutritious lunch might be a good next stop.
You can grab a bite to eat in the Food Court at CNN World Headquarters. Older kids, especially those who are tech-minded, will probably find the CNN Studio Tour more interesting than younger ones. But, it's fun for everyone to watch people traveling up the world's longest freestanding escalator in the network's towering lobby.
Similarly, the Center for Civil and Human Rights and the College Football Hall of Fame might be best for older children. For younger travelers, check out the Children's Museum and the SkyView Ferris wheel, which are also close by.
All in all, thinking small in Atlanta means spending less time in traffic and more time enjoying the many family attractions that are clustered together.
Planning Tip: For more ideas on things to see and do, visit the Atlanta Convention & Visitors Bureau's family fun page: www.atlanta.net/50fun/family-fun.
Sponsored by CityPASS