By Eileen Ogintz
Got duct tape? You'll also need some wire mesh and either wood or sturdy cardboard. Now you are ready—to start to make an out of the box (literally) gingerbread creation.
"Push yourself to do something out of the traditional gingerbread house," suggests Michael Craig, the pastry chef at Walt Disney World's Animal Kingdom Lodge. He is giving us a lesson as he works on a 7-plus foot Ginger-Affe, who will be joined by a three+ foot tall baby Gingerbread zebra in the resort lobby.
For the uninitiated, Animal Kingdom Lodge is designed to make you feel (and believe) you are in Africa complete with views of 4 savannas with over 200 hoofed animals (yes, giraffes among them) and birds. There are also zebras, gazelles, kudu and flamingo among them.
Craig explains that the frame for his Ginger-Affe was first made last year; the Zebra is new. "It's a challenge," he says. "But I like a challenge."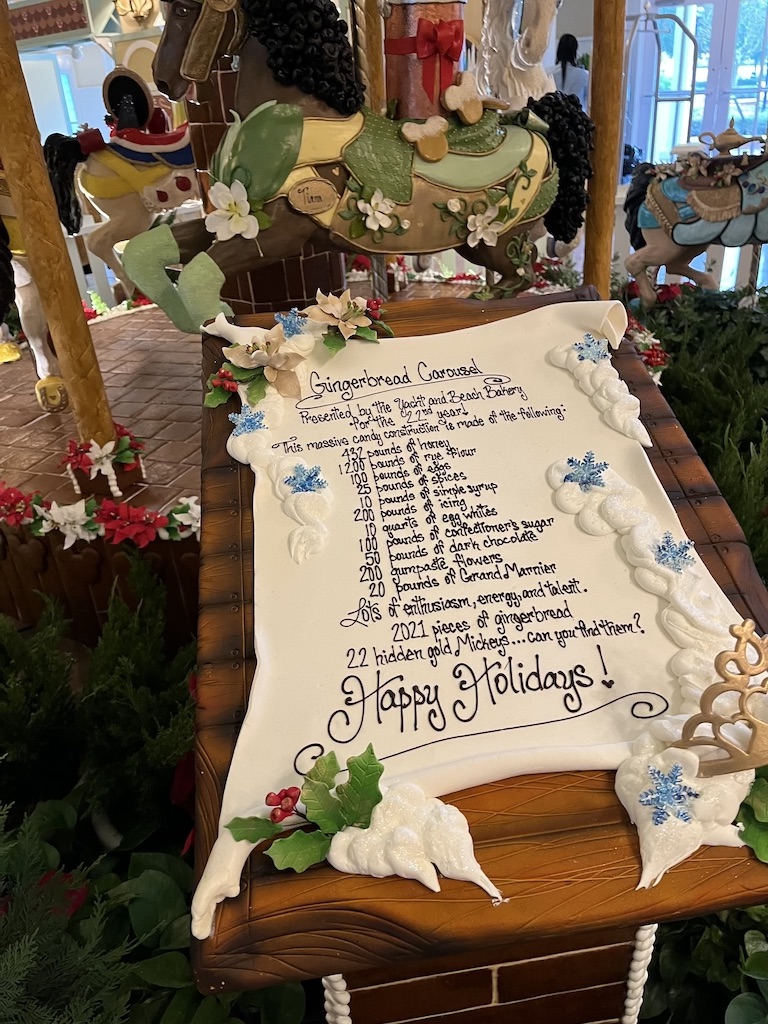 We are staying at Walt Disney World's Beach Club Resort where a Gingerbread carousel—yes it turns and the candy colored horses are named for Disney princesses—elicits oohs and aahs from young and adult guests alike. The ingredients are spelled out in gingerbread—432 pounds of honey; 1200 pounds of rye flour; 100 pounds of eggs; 25 pounds of spices, 10 pounds of simple syrup; 200 pounds of icing; 10 quarts of egg whites; 100 pounds of confectioners sugar; 50 pounds of dark chocolate; 200 gum paste flowers; 20 pounds of Grand Marnier and "lots of enthusiasm"2021 pieces of gingerbread and 22 hidden Mickeys for guests to find.
Chef Craig notes that all that limits your home creation is your imagination. Once you make your cardboard or wood frame; you cover it with wire mesh and then duct tape, which comes in many colors. You paste your gingerbread pieces to the duct tape with frosting (figure one egg white to a pound of confectioner sugar). The less egg white, the thicker the paste. The Ginger-affe, in case you are wondering, will take 84 pounds of gingerbread cut into Giraffe spots and then, the white duct tape covered with modeling chocolate.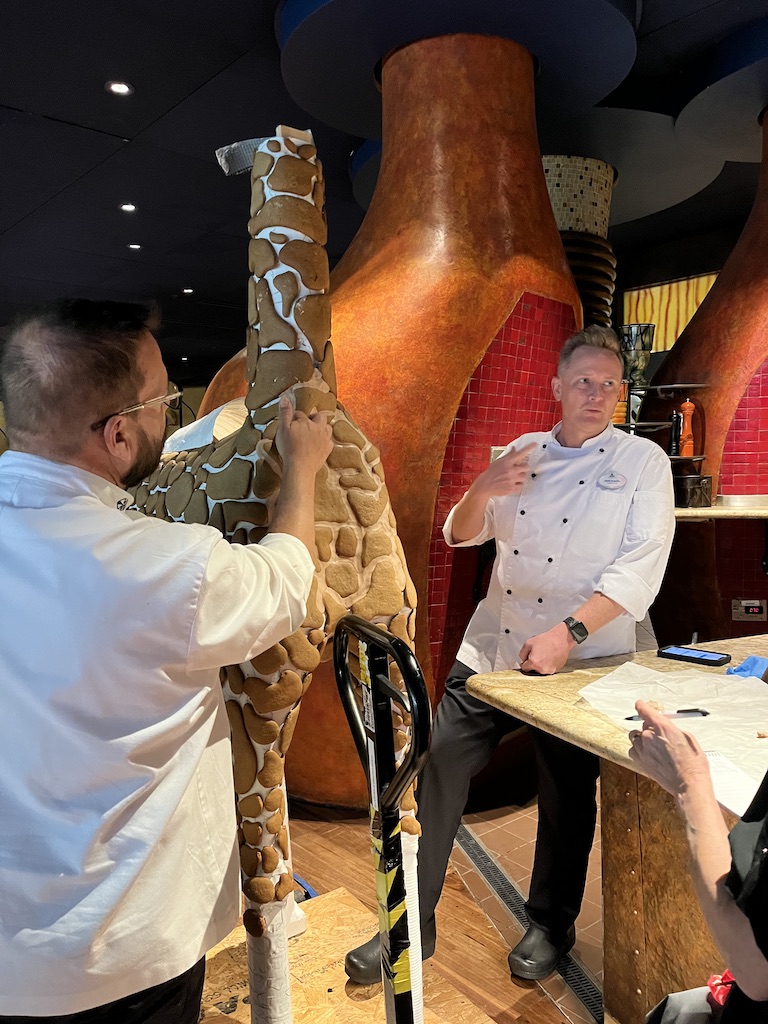 The Ginger-affe's head, sculpted with modeling chocolate, is the most challenging part, Chef Craig said. (You can buy modeling chocolate as well as whatever else you want to use to decorate—M&Ms, Twizzlers, peppermints… LEGO people.
The Grand Floridian, Contemporary and Beach Club resorts also will feature giant Gingerbread structures—the Grand Floridian's giant house has been a holiday fixture for more than two decades. Some fans do a self-guided tour of the resorts to see the Gingerbread creations if they visit during the holidays.
Gingerbread, houses, of course, are as much a holiday tradition for many as holiday lights and trees. And there are ever-larger ones across the country. The Broadmoor Resort in Colorado Springs, CO is famous for its giant display, different every year. The Omni Grove Park Inn in Asheville, NC is hosting its 30th annual National Gingerbread Competition (all entries will be on display throughout the holiday season and one of the top 12 finalists will be on display on Facebook (@omnigroveparkinn) and Instagram (@omnigrovepark), the first 12 days of December. The Museum of the City of New York will display the winners of: The Great Borough Bake-OFF—the first ever.
Build your pet. Your car. Your boat or the one you wish you had. Said Craig. "The most important thing is to have fun."