By Eileen Ogintz
Tribune Content Agency
One visit to Athens won't cut it. "You've got to come back for a second visit," says Spyros Kagkas. Because meeting locals is the best way to explore.
The native Athenian runs This is Athens with a Local, a volunteer program featuring free tours designed to connect tourists with those who live here, whether you want to see a typical neighborhood, focus on food, architecture or what would be interesting for families. This program is similar to Greeter programs in New York, Japan, Paris and elsewhere designed to connect locals with visitors seeking something different than a traditional tour.
On a first visit, Kagkas explains, tourists check off the must-sees – The Acropolis, the Plaka, the museums, but they don't experience Athens like a local, sitting in a square lingering over coffee or a drink, exploring a neighborhood. "Visitors say they have seen Athens, but they haven't really seen anything about the way we live."
That's why Kagkas suggests getting the Big Sites out of the way on a first visit and then coming back. "We don't go to museums," he said. "We go for authenticity."
And while there are chefs in the program who might give a food-focused tour or architects who focus on buildings, the real emphasis is on authenticity. "Everyone can tell you where they go for souvlaki or coffee … everyone has their own opinion and can tell you what they love about Athens."
I might say the same about experiencing New York, San Francisco, or Paris. There's something to be said for settling into a neighborhood, shopping at local shops and farmers markets, frequenting a local café — at least meeting some locals.
Food is always a good icebreaker, I've found, just as your kids joining local kids at a playground or walking your dog. Certainly, it is tough right now when we are all being so cautious during this seemingly never-ending pandemic. We can hope that 2022 will be different, especially by next spring and summer when you might want to visit Greece, whether cruising on a big or small ship or island-hopping.
We were fortunate in Athens to cook dinner one night with a young couple, sharing stories about how we cook at home and American movies.
(Eleni Fotiou is an Athenian who runs MAMAKITA, which specializes in organizing custom private trips for families, complete with a "child whisperer" to explain Greece's most famous archeological sites or local hiking guides, Greek-owned Celestyal Cruises touts local food and entertainment while intimate Variety Cruises, owned by the same Greek family since 1949 with no more than 50 passengers, has an Unexplored Greece itinerary that visits smaller, less touristed islands. Alternative Athens offers the opportunity to visit a local family's home as well as special family activities, including a graffiti workshop and a young heroes family mythology tour.
Tours by Locals is a company we have used for off-the-tourist track experiences.)
But perhaps our favorite meet-the-locals experience in Greece was actually a shore excursion from Celebrity's new Apex in Mykonos. Because of the pandemic, more smaller and private excursions have been offered, including to Teta Fragedaki's home on the island with just 20 of us. Though not inexpensive ($189), we all agreed it was well worth the price and a unique opportunity to visit a local's home on Mykonos where Fragedaki joked there are more helicopters than taxis as Mykonos "is the only place in Greece where no one is poor."
Talk about making a dream come true! Like most Greek women, she explained, she has always loved to cook. When her daughter was born, like many moms, she wanted to switch careers to spend more time at home rather than in an office.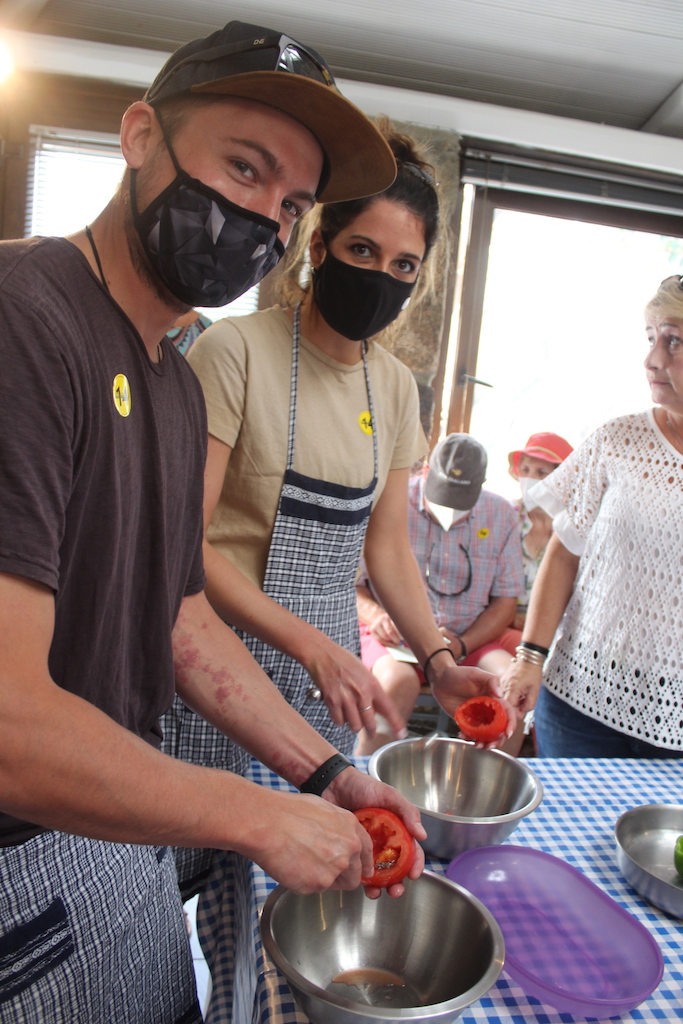 Why not cooking classes and demonstrations for tourists who come to Mykonos during the tourist season, she thought? Her husband not so much. "He thought I was crazy," she told our small group, as we settled in her charming garden with bougainvillea growing up trellises and large tables. Her kitchen, complete with stone walls, has been remodeled to accommodate her classes.
She didn't let that stop her and now 10 years later, despite the pandemic, she has a thriving business teaching visitors — including families — how to prepare local dishes, including spinach pie, tzatziki, the popular cucumber yogurt sauce, stuffed tomatoes and peppers. Later, she also served up a beef dish served over orzo typically served for extended family.
As the men in our group step up to volunteer for each dish, she jokes that Greek husbands don't cook. Nor are there exact measurements. a pinch of this; a finger or two amount of that. Very important, especially with food prices climbing, Greeks don't throw anything away that can be used. "You can create another food," she said. The water squeezed out of the spinach? That can flavor risotto. That extra rice from the stuffed tomatoes? Freeze it and use for another meal.
When we arrived, we were served something sweet — "so your life will be sweet," she explained — a soft Greek sweet called Loukoumi with mint and a lot of sugar and gelatin, as well as some sour cherry wine.
We taste a local cheese and Louza ham with a liquor called Raki — 60 percent alcohol made from the skin of the grapes. "We use it for everything," she jokes – rub on your head or belly if you have an ache; drink to relieve congestion, even clean your hands with it!
Fragedaki's two efficient assistants bring the needed ingredients — and whisk away the used dishes. Because of the pandemic, we can't eat the food we have handled, Fragedaki explained. The animals at her farm are well fed, as were we as the dishes we had learned to cook appear in front of us.
For dessert, the popular Spoon Sweet — Greek yogurt, honey, and cooked fruit. We are all happily stuffed.
She sends us back to the ship with recipes and a tiny bottle of Raki.
Bravo, Teata! Happy eating to all in 2022!
(For much more Taking the Kids, visit www.takingthekids.com and follow TakingTheKids on Twitter, Facebook and Instagram where Eileen Ogintz welcomes your questions and comments. The Kid's Guide to Philadelphia, the 13th in the kid's guide series, was published in 2020, with The Kid's Guide to Camping coming in 2021.)
©2021 Eileen Ogintz. Distributed by Tribune Content Agency, LLC.