For the family vacation of a lifetime
It's almost that time of the year every child looks forward to: family vacations. Family vacations are the way we create some of our best memories, form traditions, and explore new worlds together.
When it comes to planning the perfect family vacation, there are many aspects to consider. Each experience has to foster that deep bond between loved ones. All the better when you share new experiences. And there's no better place to find them than in Belize, which should be on your summer vacation idea list.
Eco-adventures abound, Belize can provide the family vacation of a lifetime. It doesn't matter what type of traveler you are. , Whether you have wannabe-Tarzan kids looking for adventure or a partner who relishes basking in the sand amidst a sunny backdrop, luxuriating at nature Oriented spas is bound to find their nirvana when visiting the three best regions in Belize.
Travel to and from Belize is now even easier, as the U.S. has lifted its requirements for international travelers to show proof of a negative Covid test before reentering the U.S.
Taking the Kids visited Belize in January 2022. Read our travel diaries here.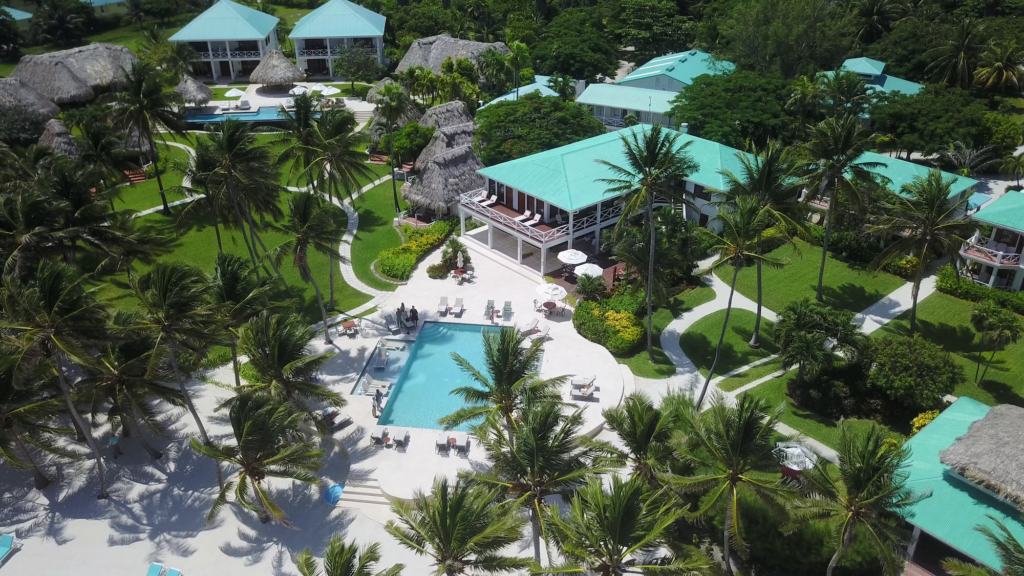 Sail Away to Ambergris Caye
Known as Belize's darling, Ambergris Caye , the nation's largest island, is just a half mile from the Belize Barrier Reef with famous snorkeling and dive sites, including the Hoi Chan Marine Reserve. Ambergris Caye is the the top destination for divers and snorkelers. The island's only big town, San Pedro, is a bustling cacophony of excitement and energy. Feel it the moment you set (bare) foot on the shore.
To experience it fully, book your stay at the award-winning Victoria House Resort & Spa, San Pedro's premier family stay.
Victoria House is a wide-open door to all the activities you'll find both on and off-shore. Snorkeling and Diving are quick boat ride away from the resort's dock. Glide alongside kaleidoscopic schools of parrotfish, brooding barracudas, and graceful eagle rays. You can even swim alongside sharks! But hold the ominous Jaws-theme; these nurse sharks are docile, and perfect for hanging out with kids.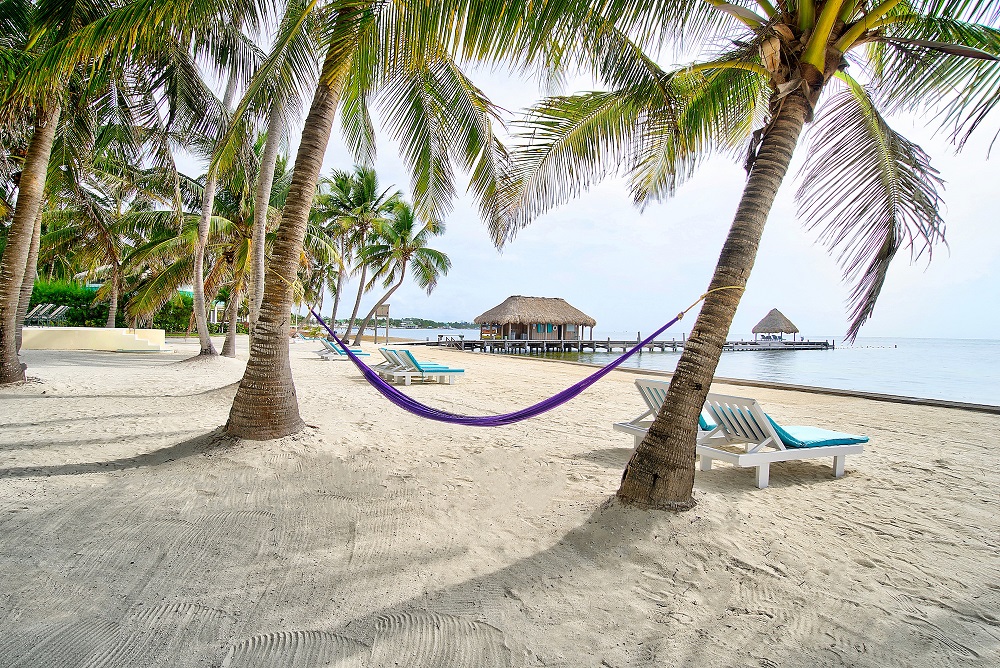 There's also fishing, sailing, windsurfing, jet-skiing, biking and bird watching – in short everything a family could want.
Apart from pure sun-and-sand fun, Victoria House provides families with the space they so direly need. The resort offers spacious accommodations with its two to five-bedroom villas. Each is sure to impress. Locally made wicker and mahogany furniture add a personal touch to each room. And Casa Playa Blanca and Casa Azul's private pools are sure to keep the kids entertained for hours on end.
Currently, Victoria House has a special offer available.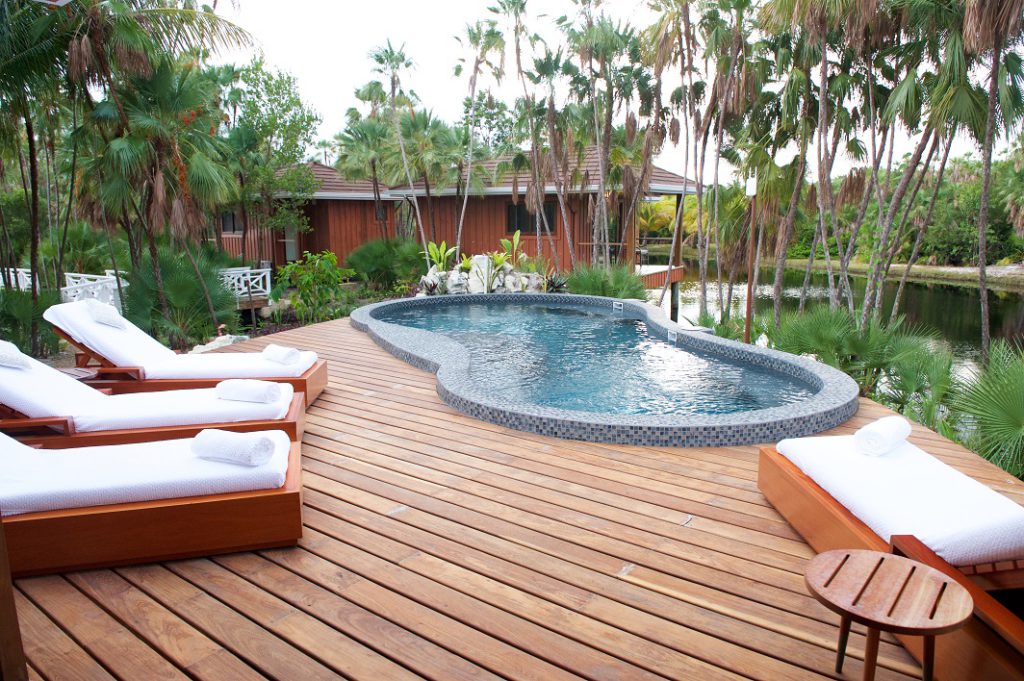 Find serenity in Placencia
If you can't get enough of the beach but want to enjoy it at a slower pace, make your way to Belize's southeast coast. The region is home to its famous peninsula, Placencia, which holds some of the most stunning vistas in the country. Placencia sits about two hours driving and a 20-minute domestic flight away from the international airport. When looking for an unforgettable family experience, look no further than the celebrity-favorite Naia Resort & Spa.
The wellness-focused resort cultivates an environment of serenity and tranquility that your family is bound to benefit from. The luxurious living quarters of the two-bedroom beach house will ready each of you to face the day's adventures. Whether that's chocolate making, Maya ruin exploring, or hiking through Cockscomb Basin. Wind down from your high-energy day with some heart-opening yoga moves at the on-site yoga studio. If that's a little too calming for your kiddos, Naia Resort provides complimentary kayaks, paddleboards, and bicycles. Here, there are more ways than one to stay active.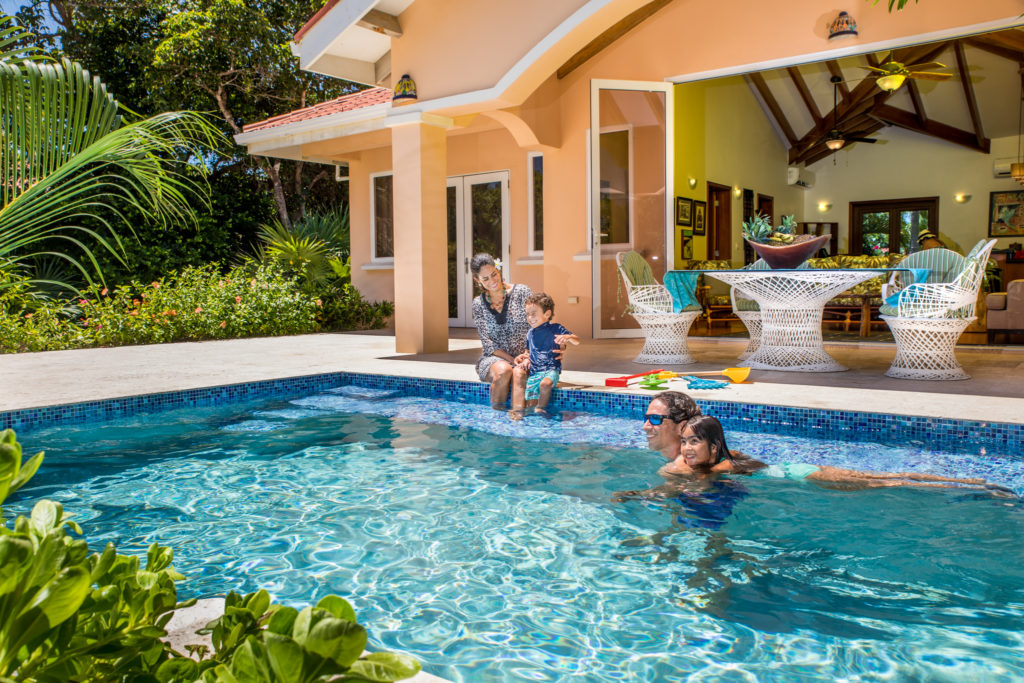 Bookend your day with a splash at the resort's pool your beach house's private pool before venturing off to Belize's wild side, Western Belize.
Currently, Naia Resort has a special offer available.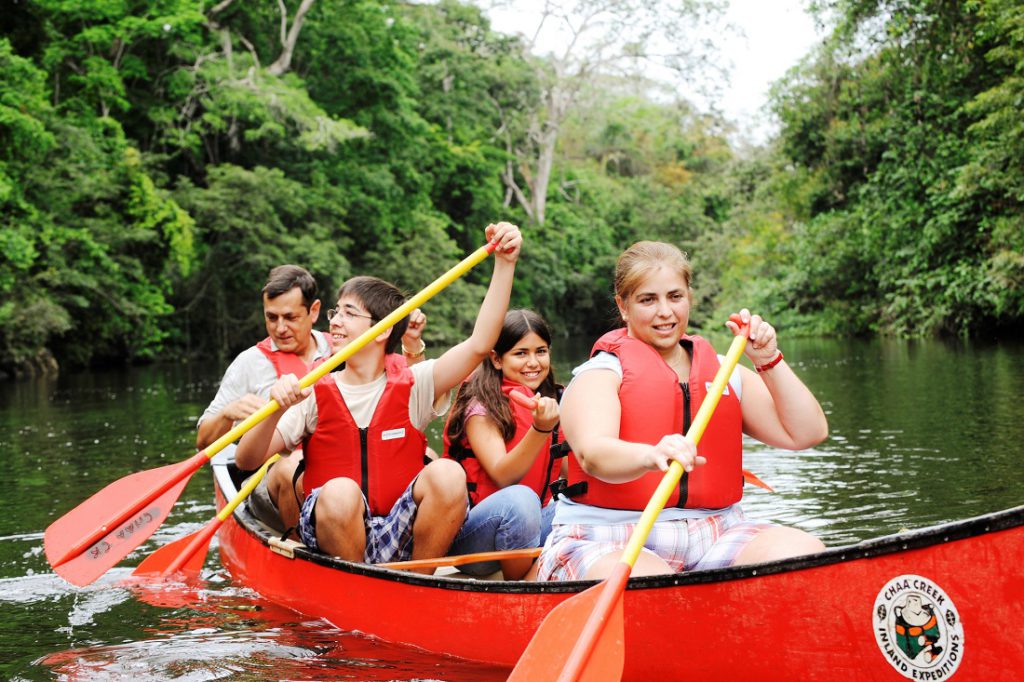 Embrace your wild side in Western Belize
Enveloped within broadleaves and pine, Western Belize speaks to the untamed sides of us. Sides that crave eco-adventures. Sides that want a deeper connection to the lands they visit. And sides that form long-lasting bonds with the communities within. Each of these – and more – can be found when staying at the Lodge at Chaa Creek.
As Belize's first eco-lodge, Chaa Creek has been hosting intrepid families for as long as Belize has welcomed travelers. Children often make a beeline toward the on-site Blue Morpho Butterfly exhibit where they learn the life cycles of these vibrant insects. Visit the organic farm; go bird watching on the property. Families also look forward to horseback riding through the property's vast nature reserve, which houses chittering wildlife and Maya mounds. Cook with a local master over an open hearth. Help local school kids by packing a pound of school supplies which Chaa Creek distributes.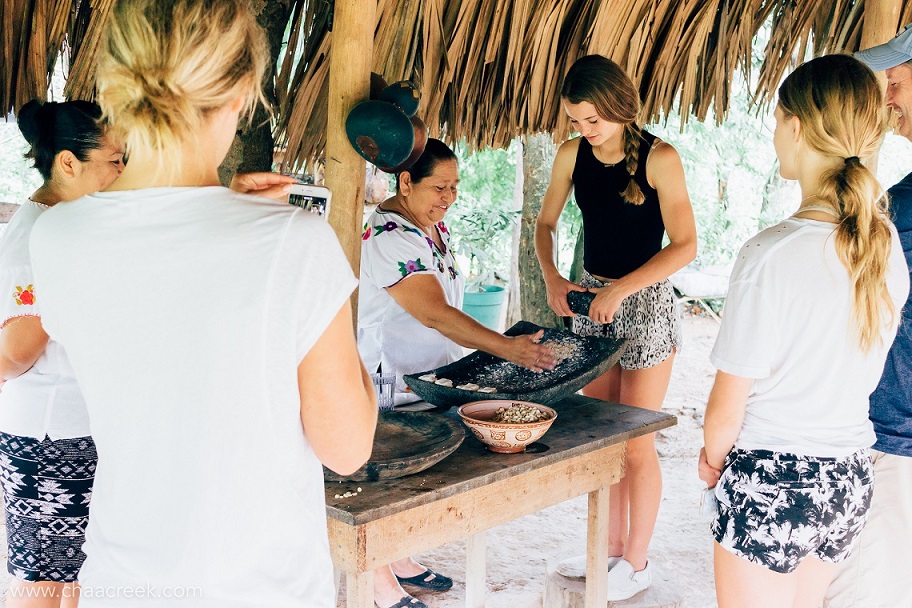 The lodge is tucked within the jungles outside of San Ignacio Town, a cultural Mecca. The town serves as a springboard for history-loving families where ancient Maya temples, historic bridges, and rich cultures are all within shouting distance. For more family-friendly fun, venture a little further to the Mountain Pine Ridge region. Here, the knowledgeable guides at Chaa Creek will show you where to find the best waterfalls, natural pools, and gaping caves.
Currently, Chaa Creek has special offers available for summer and fall.
—-
Within each of these three destinations lies a family vacation that's near impossible to replicate anywhere else. Belize continues to show that you don't need to pick one type of vacation in order to enjoy all the country has to offer. To help you plan the ultimate family vacation, give call toll-free to +1-877-709-8709.
For information on entry requirements and Covid-19 data, please visit this site.
Sponsored by The Lodge at Chaa Creek, NAIA Resort & Spa, and Victoria House Resort & Spa